Hi everyone.
First I'd like to say that I checked out this program probably 6-9 months ago and for some reason it didn't stick... but recently I downloaded and started playing around with 1.2.b16 and have been really impressed so far with what I'm seeing. I have a lot to learn about the program yet, but I think some kudos are in order...
Great job guys! The speed at which this is developing and the level of commitment and engagement by the contributors is to be commended.
That said, I had a couple suggestions I was hoping you might be able to consider and I'll put them in separate posts.
The first is in regard to being able to adjust the bounding box around images inside the game. As it is right now, the way the game auto-sizes images to fit in predetermined size categories, and the way we can change those sizes is really fantastic. However, it is rather geared to images that are perfectly square to get accurate sizing. Extraneous graphic elements (like weapons sticking off bodies) affect the "core" of the image negatively.
I'm a top-down guy (and this problem would exist with top down too), but since there aren't as many great top-down figures available out there I've been putting together a large collection of front-shot figures. Using a couple front shot figures, I'll illustrate my point: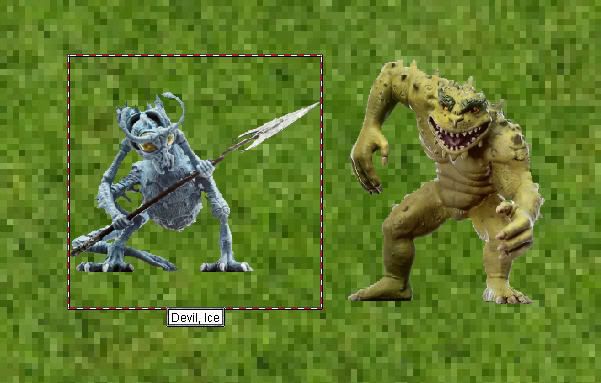 Assume for a moment that the Green Slaad and Ice Devil are the same size. Because the Ice Devil has a long spear, Maptools is shrinking the Devil to fit him inside the box. If I could change the bounding box in game to adjust his size based off a new "core" then the image would display more accurately (snapping in the grids better and adjusting to the built in size options better.) Below is an illustration of what I would probably adjust the new core of the Ice Devil to:
This would also have a second benefit with regard to the flexibility of the kind of graphics one could import without having to edit them specifically to work better in maptools. In this example, I actually had to go into my Ice Devil and size the PNG file to be square (it was rectangle) so that it more accurately filled 4 squares in the game when set to "Large." Otherwise, it was only filling 2 squares with some overflow beneath it. That didn't make for a very accurate range determination.
Thoughts?