This is probably a long shot, but here goes.
I have this puzzle in my game, where the players have to rotate these rings to try to spell out something. Looks like this...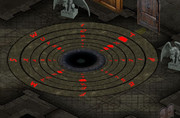 Then I have campaign macros, for each ring, "Rotate Left" and "Rotate Right". Macors look like...
[h : tokenId = findToken("1stRing")]
[h : currentRot = getTokenFacing(tokenId)]
[h : currentRot = currentRot - 45]
[h : setTokenFacing(currentRot, tokenId)]
And then each ring has an image table, that shows the image rotated for every 45 degree increment. Yes, each ring is its own Figure token.
So this works just fine when I test, all the rings rotate in the correct direction, changing the orientation of the letters.
But the players in my game...some of them see the rings just fine. Some see the big red ? for the ring....which appears or disappears depending on the rotation of the ring.
Am I doing something wrong? Why is that as the DM, I can see the image changing just fine but for some players it works and for others it doesn't.
Its an online game, so was really hoping this would be a fun, interactive puzzle for the players...now its just a semi-disaster!