Hello true believers! I have just posted version 2.0 of this fine framework on pg. 11 (scroll down). It's got a lot going for it and I want to know what's broken so I can fix. More info is on that page. Let me know how it works so I can update this page properly.
-------------------------------------------------------------------------Archived---------------------------------------------------------------------------------------
This framework is for the new Star Wars: Edge of the Empire RPG from Fantasy Flight Games.
The latest version (1.6S) has an integrated character sheet and dice pool that will allow players and GMs to run games using FFG's unique narrative dice pool mechanics. The framework will handle dice rolls, adding and subtracting wounds and strain, dealing critical hits, and rolling initiative. As well, the framework has Destiny Points for the GM and Players to use.
[1.6S Update]
New additions for the 1.6S update are the introduction of ship character sheets to the framework. You'll be able to set your token as a ship in the update menu while changing stats. How do you get to the character update screen? Click the new token icon that is on the character sheet now.
In addition to the ships, I've followed a few layout requests to move around stats. I've also included the notes section and damage as part of the attack dice roll to help people remember what is being rolled. I also think I squashed out the bug that would prevent character tokens from updating when not on the main page.
Tragiclly, I can't upload this file to the server, so here's the Dropbox link for it.
[1.6 Update]
I've rewritten the entire back end of the framework. If you're going to use old tokens with v1.6, you
NEED
to use the Update Token macro in the campaign framework. The new additions have broken the skills into General, Combat, and Knowledge. As well, you can choose to hide 0 rank skills for each group or show all skills.
Lastly, the framework will only show sheets that the players have ownership of. And a great new feature is that the character sheet will not redraw itself unless you choose a new token that you own or do something that will cause a redraw (ie. update skills/stats, add a weapon, take damage.)
I have not yet included options to record talents, equipment, or cash on the character sheet. As well, I have not created a ship sheet for players and GMs. All of these items and more, are things I plan to set up in a future update.
A a HUGE shout out goes to oggmosh and Jshock for really adding some awesomeness to the framework. Their contributions have really helped me further the work to date on this project.
If you have any questions or comments, feel free to post them to this thread.
I run this program using:
MapTool Version: 1.3.b89
Max Memory 1024
Min Memory 64
Stack Size 3
- Josh
[spoiler=Character Sheet]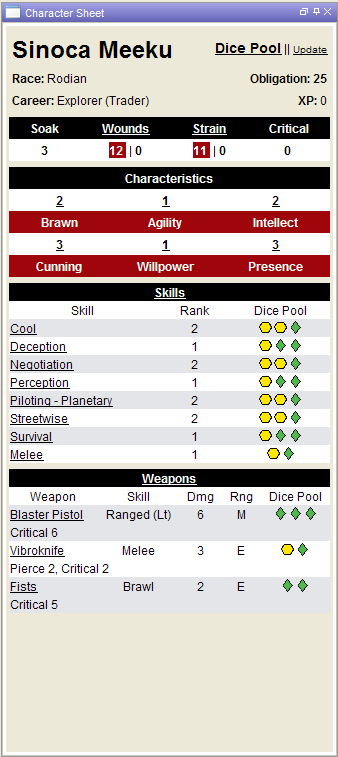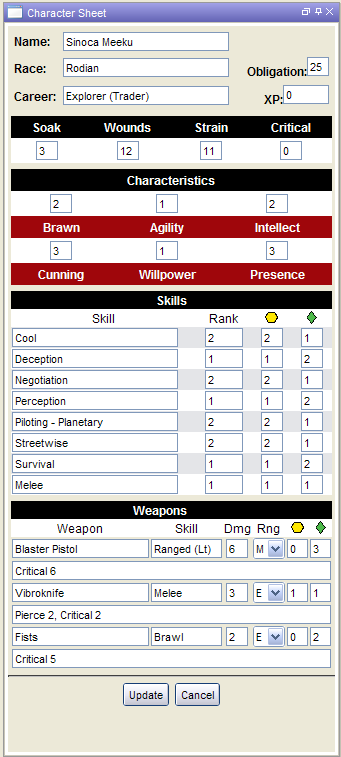 [/spoiler]
[spoiler=Interactive Elements]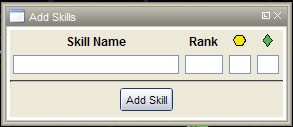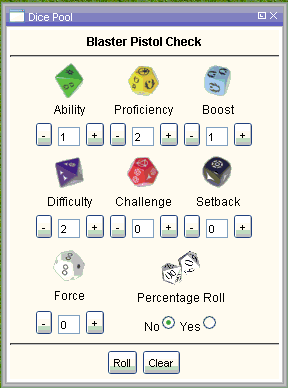 [/URL]
[/spoiler]
[spoiler=Screen Shot]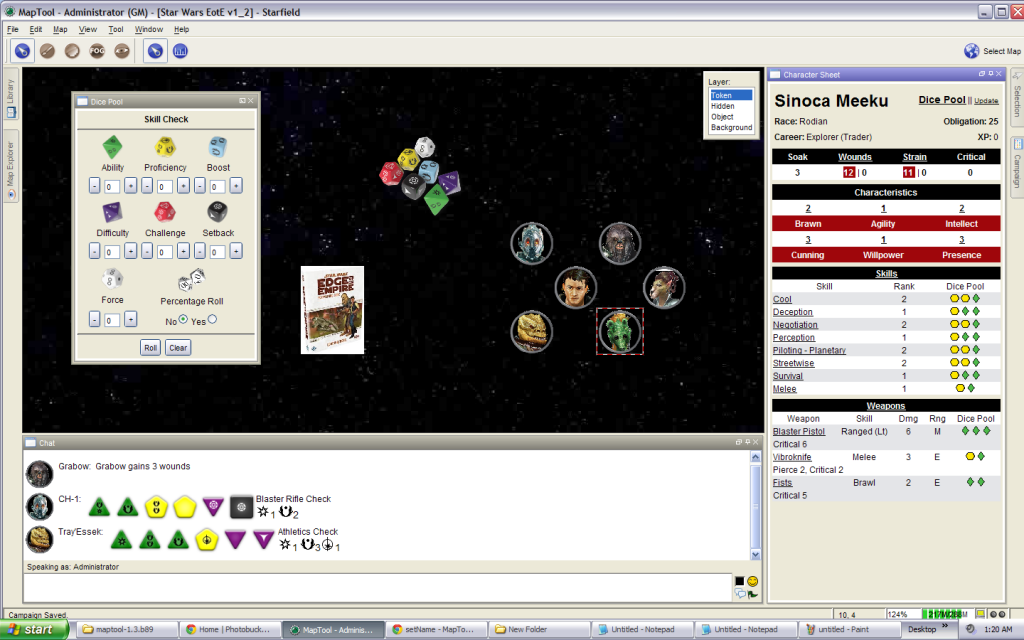 [/spoiler]
Star Wars: Edge of the Empire v1.6S