[09/29/2019 Update] This is for the old framework. I'm not really supporting or updating any longer. However, I've started on the SWADE framework. You can follow the progress on
Google Docs
. I'm not on the forums much these days but you can find me on the MapTool Discord server as either RPTroll or RPTBard. I also admin the RPTools Facebook page and Twitter account if you want to reach out there.
I'll create a new forum thread for SWADE once I get the new framework operational.
****************************************************************************************************************************************************************
Note: I'm in the middle of updating documentation. Some of it is out of date. You can find my latest campaign file here to test. It contains the Tomb of Terrors and whatever other adventure I'm working on at the moment.
The easiest way to make use of the framework is to download the file below, unzip it, and find a genre campaign that matches your own.
https://www.dropbox.com/s/mrz5safzph1if ... E.zip?dl=1
(last updated May 22, 2013)
[03/29/2015]I've created a github repository for the macro code. You can see the work and commits and download the code if you know GIT.
Trollware Source Code
If you're interesting in learning about GIT source code control, check out this
free book
.
If you've used the framework before
and wish to update your campaign with the latest Lib: tokens, please read the
Setting Tokens
post for instructions on how to save your campaign specific data.
Code: Select all
Archive:  TROLLWARE.zip
  Length      Date    Time    Name
---------  ---------- -----   ----
    31097  2013-05-22 19:05   CampaignMacros.mtmacset
    86871  2010-04-02 10:02   LibAdventureDeck.rptok
   172422  2013-01-04 19:44   LibDeck.rptok
   188181  2009-10-17 09:15   LibDiceBox.rptok
   123263  2009-10-17 09:15   LibEvernight.rptok
    91668  2010-02-14 14:53   LibFantasyCompanion.rptok
   175686  2013-05-22 19:22   LibGear.rptok
   345191  2013-05-22 19:21   LibGM.rptok
    78187  2009-10-17 09:15   LibHellFrost.rptok
    81973  2013-01-04 19:45   LibInit.rptok
   326274  2010-04-02 10:03   LibPowers.rptok
    76971  2010-10-24 14:20   LibRace.rptok
     1800  2009-10-17 09:15   LibSettingMacros.mtmacset
   103369  2009-10-17 09:15   LibSlipstream.rptok
   163649  2009-10-17 09:15   LibSWEX.rptok
   319777  2010-04-02 10:03   LibVehicles.rptok
  1810979  2013-05-22 19:04   SavageWorlds.mtprops
  9309525  2013-05-22 19:22   SWEX.cmpgn
   166249  2010-02-15 13:32   LibSpaceNazis.rptok
    19998  2010-02-24 19:43   FrameworkDocsCodersGuide.odt
    19433  2010-02-24 07:28   FrameworkDocsGMsGuide.odt
    19157  2010-02-24 07:27   FrameworkDocsPlayersGuide.odt
   544634  2010-09-18 23:19   Lib1889.rptok
   544633  2010-10-24 14:20   LibSpace1889.rptok
  8645028  2012-03-25 15:29   SWEXTemp2.cmpgn
  9023067  2010-03-11 17:13   SWEXTemp.cmpgn
   137429  2011-12-11 12:14   LibPokerDeck.rptok
     3542  2011-12-11 15:29   PokerDeckCampaignMacros.mtmacset
    20177  2013-05-22 19:14   GearMacros.mtmacset
---------                     -------
 32630230                     29 files

Here's a picture of the center piece of the framework: The Character Sheet.
From this sheet you can use weapons, cast spells, draw intiative cards and modify your characters traits and abililities. I detail each major section in individual posts following this one. To get started, right click on the link below and select "Save As" from the popup menu.
http://RPTroll.com/SavageWorldsMaptool.cmpgn
Then click on this link to start maptool.
http://download.rptools.net/webstart.ph ... m%20-Xss4m
After maptool starts, load the above campaign file using File->Open Campaign.
Something like the following image should appear.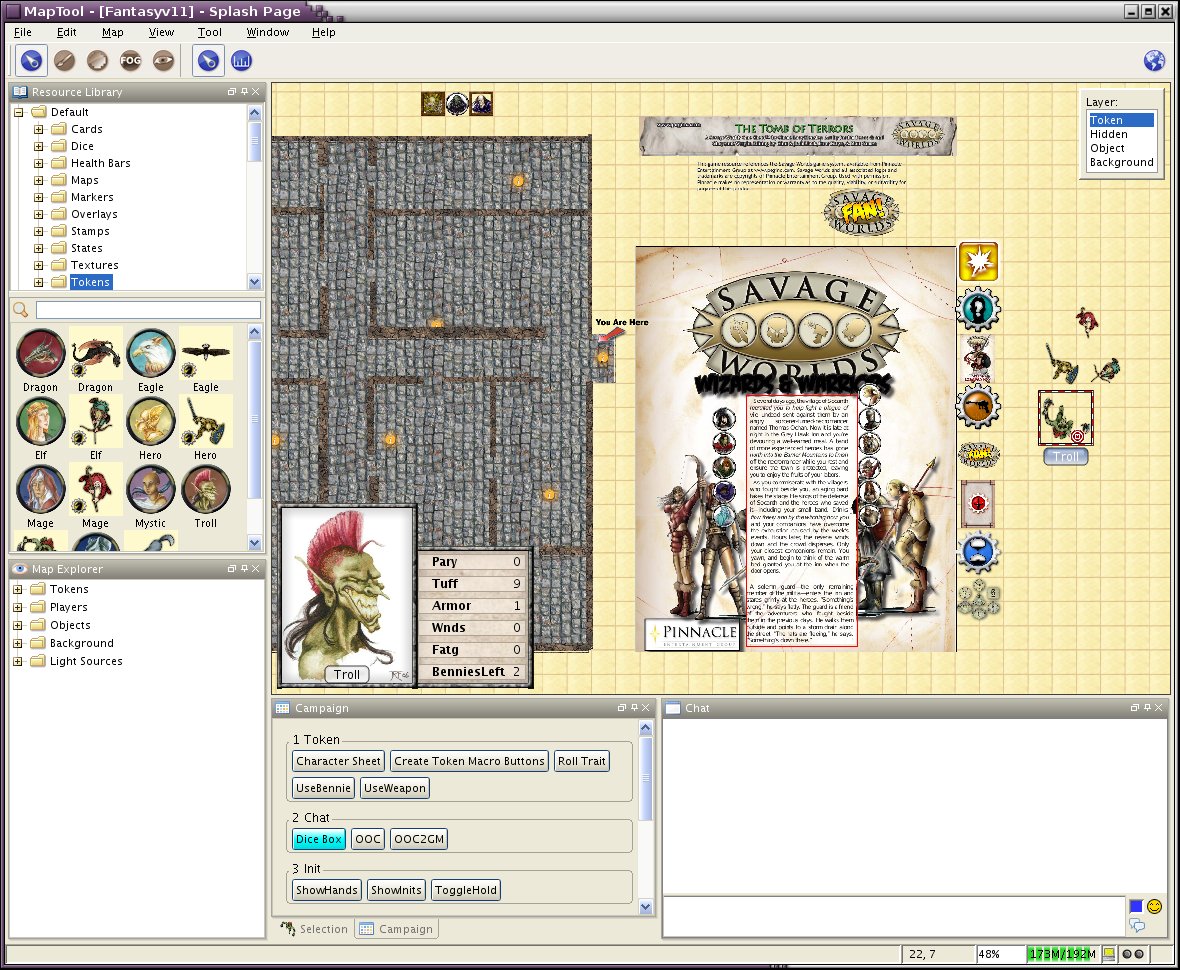 Now click on the Troll token and find character sheet in the campaign macro panel. With the Troll selected, click on the Character Sheet button. The character sheet of the troll should appear. It may first appear very small. Feel free to resize it and dock it to another window to to an empty frame side. (for more on docking and unpinning see maptool documentation)
After the character sheet is up and situation to your liking, click on the Strength hyper link on the character sheet. Now look at the chat window. You shout see something like the following.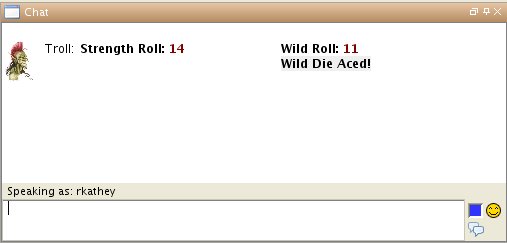 Our Troll is a wild card and so gets a wild die. In this case his wild die aced and thus he rolled again. You can mouse over the underlined text to see the roll calculation.
Now play around with the other links. The links on the left allow you to edit the character sheet while the links on the right roll traits, activate powers, or roll attacks.
For now, play around with the character sheet to see what it can do. Please report any bugs you find back to the forum.
And now for a few important notes
***** Important: Settings ******
As of the current version everyone will need to set their stack size to 4 MB or the character sheet will not run
As of the current version you must set the tool tip flag in preferences Edit->Preferences find the Chat group and click "Use Tooltips For Inline Rolls"
All Macros on the Lib: tokens must be trusted which means
* The library token must be visible to players (make sure Visible to Players is set in the right-click context menu)
* The library token must have a name in the format "Lib:name"
* The library token must be present on only one map in the campaign file.
* The library token may not be owned by any players (it's best not to be owned by ANYONE!)
If you have questions about how to make the trusted please see the wiki
THIS PRODUCT OPERATES UNDER A FAN LICENSE AND MUST HAVE THESE WORDS AND IMAGE PRESENT IN ORDER TO USE
. Please see
http://www.peginc.com/Licensing.html
for details.